2023-2024 Choreographers
Choreographer: Ephrat Asherie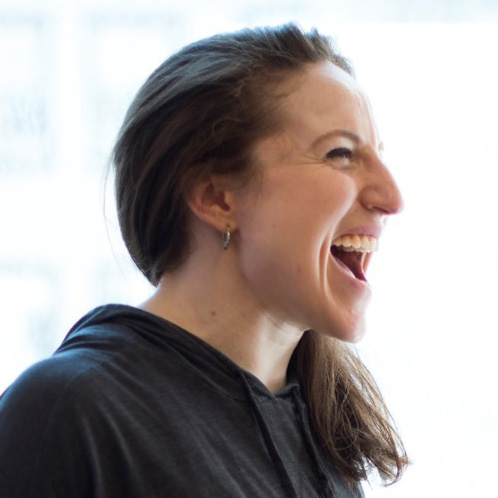 Ephrat "Bounce" Asherie is a NYC based b-girl, performer and director/choreographer and a 2016 Bessie Award Winner for Innovative Achievement in Dance. Asherie has received numerous awards to support her work including Dance Magazine's Inaugural Harkness Promise Award, a Jacob's Pillow Fellowship at the Tilles Center for the Performing Arts, and two National Dance Project Awards. In 2019 she was the recipient of a NYFA Fellowship and a New York City Center Choreography Fellowship. Asherie is currently a Jerome Hill Artist Fellow. As Artistic Director of Ephrat Asherie Dance (EAD), Asherie's work has been presented at the Joyce Theater, Jacob's Pillow, Works & Process at the Guggenheim, New York City Center, the Modlin Center, Vail Dance Festival, Art Power! at UC San Diego, Spoleto Festival USA, among others. Asherie earned a B.A. from Barnard College in Italian and an M.F.A from the University of Wisconsin – Milwaukee where she researched the vernacular jazz dance roots of street and club dances. Asherie is honored to have been mentored by Richard Santiago (aka Break Easy) and to have worked and collaborated with Buddha Stretch, Bill Irwin, Michelle Dorrance, Doug Elkins, Gus Solomons Jr and Rennie Harris. Asherie is a co-founding member of the all-female house dance collective MAWU and is forever grateful to NYC's underground dance community for inspiring her to pursue a life as an artist. Please visit www.ephratasheriedance.com or IG: @ephratasheriedance for more info.
Photo credit: Claudia Celestino
Choreographer: Angelica Burgos
Angelica Burgos is of Dominican-Armenian heritage. She has received an M.F.A. in choreography from Jacksonville University in Florida, she also has a Bachelor of Arts degree from LEAP Program with Saint Mary's College of California, and is an ABT Certified Teacher, who has successfully completed all of ABT Teachers National Training Curriculum. Over the 16 years of her performing career, she danced with the Joffrey Ballet of Chicago under Gerald Arpino, Sacramento Ballet under artistic directors Ron Cunningham and Carinne Binda, Ballet Hispanico under founder Tina Ramirez and in the West Side Story on Broadway revival in 2010. She has worked with artists such as Pedro Ruiz, Margo Sappington, Ramon Oller, John Clifford, Annabelle Ochoa Lopes, Val Caniparoli, Trey McIntyre, Septime Webre, Dwight Rhoden, Graciela Daniel, Sergio Trujillo and Ron Cunningham.
In 2022, she became co-director of Conflux Dance Theater. Additionally, she has taught for Western Kentucky University for three years and University of Richmond and Virginia Commonwealth University. Burgos' choreography has been commissioned by the Western Kentucky University spring performance and Virginia Commonwealth University Freshman Repertory course show, University of Richmond, Fullerton University, and Duke University Dance Program. Her choreography has competed at the 2020, 2021, and 2022 Youth America Grand Prix and Universal Ballet Competition. Burgos' television credits include PBS' Setting the Stage, 2007; NBC's 20th Hispanic Heritage Awards; and PBS' documentary Pedro Ruiz Coming Home, 2011. She is also fluent in Spanish, Russian, Armenian, and English languages.
Photo credit: Megan Garrison
Choreographer: Alicia Díaz
Alicia Díaz joined The University of Richmond in 2011 where she now serves as associate professor of dance. She teaches contemporary dance, improvisation, choreography, and community-engaged courses centered on dance for social change.

As a Puerto Rican contemporary dance artist in the diaspora Alicia's work speaks to issues of memory, colonialism, and the legacy of slavery. Recent collaborations with percussionist Héctor "Coco" Barez engage Afro-Puerto Rican Bomba as a point of reference to investigate embodied forms of resistance, healing, and liberation. Alicia received the 2020 Community-Engaged Scholarship Award from the Bonner Center for Civic Engagement, recognizing her work with the Tucker Boatwright Festival: Dancing Histories, This Ground's commission of Brother General Gabriel, co-directed by Free Bangura and MK Abadoo; the collaborative video project "Knowledge of This Cannot be Hidden" Westham Burying Ground Commemorative Act, on the history of the unmarked burial ground for enslaved people at UR; and the award-winning dance film Entre Puerto Rico y Richmond: Women in Resistance Shall Not Be Moved, weaving stories of anti-colonial and feminist activism through the history of tobacco in Puerto Rico and Virginia.

Alicia has performed with Complexions Contemporary Ballet, Andanza: Puerto Rican Contemporary Dance Company, Joseph Holmes Chicago Dance Theatre, Maida Withers Dance Construction Company, Marion Ramírez and Sally Silvers amongst others. She has co-directed Rubí Theatre, a Latinx, intergenerational theater ensemble in New York City; en la brega dance company, with Puerto Rican dance artist Ñequi González; and Agua Dulce Dance Theater, with movement artist Matthew Thornton, creating works for concert dance, museums, and site-specific locations. Her work has been presented in the United States, Spain, Puerto Rico, Cuba, Argentina, and Mexico.

Alicia serves on the Board of Pepatián: Bronx Arts ColLABorative, an organization that supports Latinx, Black, Afro-Latinx, Caribbean, Latin American, and indigenous artists. Alicia's work is featured in the recent publication Inhabiting the Impossible: Dance and Experimentation in Puerto Rico, the first book of its kind to survey the field of Puerto Rican experimental dance across four decades.
Choreographer: Larry Keigwin

Larry Keigwin is a native New Yorker, choreographer, and curator who has danced his way from the Metropolitan Opera to downtown clubs to Broadway and back. Keigwin is celebrated for his electrifying and refreshing vision of dance that embodies a theatrical sensibility of wit, style, and heart. He founded KEIGWIN + COMPANY (K+C) in 2003 and as Artistic Director, Keigwin leads the company as it performs at theaters and dance festivals around the world on a myriad of stages including The Kennedy Center, The Joyce Theater, New York City Center, and others. Keigwin has created 24 works for K+C, in addition to the large-scale community project, Bolero, which has been commissioned in 16 communities nationwide. Commissions include Paul Taylor Dance Company, Royal New Zealand Ballet, The Martha Graham Dance Company, among others. His work in musical theater includes Tales of the City (2011) at ACT in San Francisco and the off-Broadway's Rent, for which he received the 2011 Joe A. Callaway Award. In 2013, Keigwin choreographed Broadway's If/Then, starring Idina Menzel. Keigwin has choreographed special events including Fashion's Night Out: The Show, which was produced by Vogue and featured 150 of the industry's top models. As Covid-19 shifted the world of dancemaking online, Keigwin created acclaimed virtual works in 2020/2021 with high-profile commissions from The Juilliard School, Paul Taylor Dance Company, Works & Process at the Guggenheim, and Fire Island Dance Festival. Vogue heralded Bolero Juilliard, which brought together 100+ dancers, musicians, singers, actors, faculty, and alumni, as "One of the 9 Best Ballets to Come Out of Quarantine." Keigwin is also the Director of Dance and a co-founder of the Green Box Arts Festival in Green Mountain Falls, CO, a multi-disciplinary festival designed to increase cultural opportunities in the region. Keigwin is also the Dance Editor of ArtDesk, a quarterly publication devoted to contemporary art, dance, performance, and thought. He is on the Board of Hudson River Park Friends.
www.keigwinandcompany.com
Photo credit: Whitney Browne
Choreographer: Eric Rivera
A native of Puerto Rico, Eric Rivera earned an M.F.A. in choreography from SUNY Purchase College. During his performing career, he danced with Ballet Hispanico of New York for 13 seasons, where he helped create over 20 original works. He performed with Minnesota Ballet as a principal dancer, Ballet Theater of Pennsylvania, Ballet Teatro Municipal de San Juan P.R., Danza Jazz de San Juan, and West Side Story's European tour. He has appeared as a guest artist in companies such as Connecticut Ballet, Thomas Ortiz Dance, Ballet Concierto de Puerto Rico, Bradley Shelver Contemporary Dance Theater, Westchester Ballet, and Brooklyn Ballet. Eric had the pleasure of performing choreographies of Ann Reinking, Mark Morris, José Limon, Kenneth McMillan, Margot Sappington, Graciela Daniel, Kevin Wynn, Vicente Nebrada, Talley Beatty, and George Balanchine.
His works have been presented by Ballet Contemporáneo de Camagüey in Cuba, EDANCO Dance Festival in the Dominican Republic, Ciudad Interior in Mexico, Dance Iquail, Ashani Dance, Convergence Ballet, Owensboro Dance Company, CSU Fullerton, University of Mississippi, Western Kentucky University, University of Richmond, Orange County College, Purchase College, Goucher College, W&L University, Jacksonville University, Virginia Commonwealth University, the University of Louisiana at Lafayette, L2 Dance Theater, New England Dance Theater, ACDA South, ACDA Baja Region, ACDFA Gala at Little Rock, AR, NY Summer Stage, and the show They Called it Rock. His television appearances include PBS' Setting the Stage, NBC's 20th Hispanic Heritage Awards, Hispanic Day Parade with Brenda Blackmon, Puerto Rican Day Parade with Ernie Anastos, and the documentary Pedro Ruiz Home Coming, among others.
Mr. Rivera is the recipient of Best Ballet choreography 2019 and Best choreographer of the year 2021 by RVA Dance Awards. In his creative work, as well as in his teaching, he is continuously exploring ways in which to share his Hispanic heritage. Mr. Rivera is an ABT Certified Teacher who has completed the ABT Teachers Training Intensive in Primary through level seven of the ABT National Training Curriculum.
Photo credit: Katelyn Hundley
Choreographer: Take Ueyama

Born and raised in Tokyo, Japan, Takehiro "Take" Ueyama moved to the United States in 1991 to study dance at the Juilliard School in New York City. Upon graduation, he was invited to join the Paul Taylor Dance Company, touring the world with them for eight years. In 2003 Ueyama debuted his first choreographic work, Tsubasa, performed with fellow Taylor dancers at the McKenna Theatre at SUNY New Paltz, NY, and in 2005 founded TAKE Dance.

Ueyama has enjoyed worldwide recognition; hisSakura Sakura was a prizewinner at the International Modern Dance Choreographic Competition in Burgos, Spain, and he was one of four choreographers selected for the 2006 Free to Rep at FSU's Maggie Allesee National Center for Choreography. In 2010 he was the first choreographer to win the S & R Foundation's prestigious Washington Award. Ueyama received the 2015 Jadin Wong Award for Emerging Asian American choreographer by Asian American Arts Alliance. Most recently, Ueyama was awarded a 2022 NYSCA/NYFA Artist Fellowship Grant.

This year, he will create a new work for University of Richmond, I. M. Terrell Dance, Texas, Troy University, Alabama, Ballet X, and his own company, TAKE Dance.
Photo credit: Whitney Welshimer
Choreographer: Anne Van Gelder

Anne Van Gelder, faculty, Department of Theatre and Dance, director of dance, and artistic director of University Dancers holds a B.A. from Virginia Intermont College and an M.F.A. from the University of Utah, in performance, choreography, and pedagogy. Ms. Van Gelder performed and served as ballet master in companies in Virginia and Utah. As a dancer, Ms. Van Gelder worked with a variety of educators and choreographers from all over the world including Li-Chou Cheng, Alun Jones, Conrad Ludlow, Richard Munro, Tom Pazik, and Stanley Zompakos. At the University of Richmond, Ms. Van Gelder has worked with artist-scholars Francesca Harper, Stefanie Batten Bland, Charlotte Boye-Christensen, Alexandra Damiani, Kanji Segawa, Jacqulyn Buglisi, and Stephanie Martinez, among others. Her choreography has been performed in collaboration with the Grammy Award-winning sextet, Eighth Blackbird. She has taught all levels of classical ballet technique at the University of Richmond, the University of Utah, Virginia Intermont College, and the Willam F. Christensen Center for Dance. Ms. Van Gelder has been invited to create or re-stage choreographies for various institutions including the Saratov Academic Youth Theatre, W&L Repertory Dance Company, Theatre Bristol, Park City Shakespeare Festival, and the Ogden Symphony. Ms. Van Gelder has created works for Department of Theatre & Dance productions including the department's dance concerts, The Tempest, Wings, Fiddler on the Roof, Funny Girl, and The Chairs and The Bald Soprano directed by Italian director and filmmaker, Paolo Landi. In Utah, she served as dance instructor/choreographer for gymnasts who were members of the U.S. Women's Gymnastics Team. She has been invited to lecture on dance history at the Virginia Museum of Fine Arts and regularly teaches master classes at the American College Dance Association annual conference. Her study of dance is ongoing, including professional conferences in Italy, Boston, and New York City, where she enjoys studying historic dance. Ms. Van Gelder serves on the Advisory Board of Conflux Dance Theater. She serves on the Board of Directors of CORPS de Ballet International, and is also a member of the Membership and Outreach committee. She is a member of Golden Key International Honour Society and Alpha Psi Omega Dramatic Honorary Society.
Photo credit: Dixon Christian
Previous Choreographers
Myra Daleng
Tiffani Harris
Rebecca Hodal
Kim Urba